Outdoor Carpet for Pool Deck? (What You Need to Know!)
thepoolanddeck.com is a participant in the Amazon Services LLC Associates Program, an affiliate advertising program designed to provide a means for sites to earn advertising fees by advertising and linking to Amazon.com . The website is also an affiliate of a few other brands. The affiliate links never increase your purchase price. We do appreciate your support. Thank you very much!
Can You Put an Outdoor Carpet on the Pool Deck?
Do you want to add an extra touch of warmth & comfort to your pool deck? Does your pool deck get too hot in summer or too slippery when it's wet? For indoor floors you would use a carpet or a rug to address similar issues. So can you put an outdoor carpet on the pool deck?
Actually, an outdoor carpet on the pool deck can protect you, your family and your deck too. A good outdoor carpet will make your pool deck slip resistant and cool to bare feet. Placed under deck furniture it will protect the deck from scratches. 
The outdoor carpet that you will put on the pool deck will be exposed to all the weather elements such as rain & sunshine. The material has to be water resistant, UV resistant, wear resistant and durable. You need to make sure that the carpet is mold & mildew resistant and easy to clean & maintain.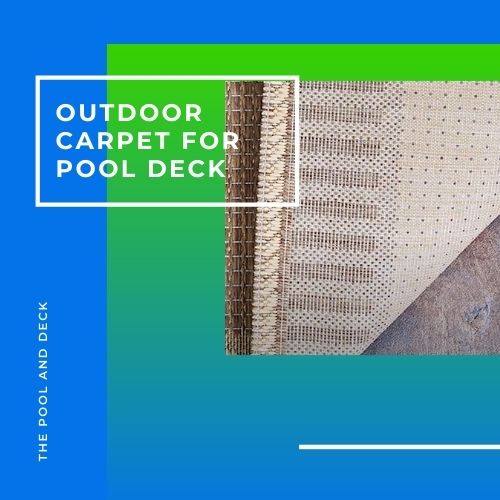 What Are Outdoor Carpets Made Of?
Of course you do not expect outdoor carpets to be made from natural material such as wool. The rain & insects would destroy it in no time. Outdoor carpets for use on pool decks or patios are made from synthetic materials.
Acrylic, nylon, olefin, polyester and polypropylene are the most common materials used. Outdoor carpets, rugs and mats woven from synthetic fibers are weather & wear resistant, durable and affordable. 
In addition synthetic outdoor carpets are:
Non-porous, will not absorb water or other liquids that create stains
Resistant to pests, mold & mildew
Lightweight and easy to clean & maintain 
If your patio or deck is covered and protected from rain, then you could go for a jute carpet. It is plant based and eco-friendly. Jute has a natural texture and a comfortable feel. 
Do keep in mind that a jute or any natural fiber carpet is less durable and more difficult to maintain in an outdoor setting.
How Do You Install Outdoor Carpet on your Pool Deck?
Start the process by deciding the area (or areas) that you plan to cover with a carpet. Runners on walking areas and large carpets under dining furniture are options to consider. The carpet material, size and color will depend on it.
Liven up your pool deck by a creative and colorful combination of 2 or 3 carpets in different sizes, materials and colors.
Unlike an indoor carpet, outdoor carpet on a pool deck should not be wall to wall or edge to edge. It is not necessary and doesn't look good either.
Outdoor Carpet Runner
Using runners along the pool or on the path from the pool to the house can be quite useful as they absorb the dripping water and remain slip resistant. There is really no need for installation if you buy a runner with rubber backing and finished edges. Just throw it on the deck.
Check out House Home and More Outdoor Carpet Runner
Key features of the House, Home and More Outdoor Carpet Runner are:
Made of high-quality, polyolefin indoor/outdoor carpet with a rubber marine backing
Low pile-height with a ribbed texture to provide traction
Finished on all edges to prevent fraying
UV-Protected, weather and fade resistant
Durable, light-weight and easy-to-clean (just hose off and dry)
Carpet in Dining Area
Use a rectangular carpet under the dining furniture on the deck. Make sure that the carpet is big enough and all furniture legs are on the carpet. This will keep the furniture stable and also prevent scratches on the deck.
Check out Gertmenian Outdoor Rug Freedom Collection Nature Themed Smart Care Deck Patio Carpet
Gertmenian Outdoor Rug Freedom Collection Nature Themed Smart Care Deck Patio Carpet made from polypropylene comes in classy nature inspired designs. It is UV resistant and can be washed with a garden hose.
How Do I Keep My Outdoor Carpet from Slipping on My Pool Deck?
Make sure that when you buy the outdoor carpet it has a non-slip label. Such carpets will have a non-skid, ribbed backing made from synthetic rubber or PVC. The ribbing allows for water drainage.
In case you have an outdoor carpet that does not have an anti-skid backing then place it on outdoor rug pads. A rug pad grips the deck on one side and the carpet on the other side. The carpet will not move.
You have to ensure that the rug pad size matches the carpet size. This is important both for aesthetics & safety. 
In addition to securing the outdoor carpet to the pool deck, a rug pad acts as a cushion between the "sometimes" abrasive backing of the carpet and the deck. They reduce the likelihood of scratches and make the carpet more comfortable to walk on.
Check out Outdoor Rug Pads
Does Water Go Through Outdoor Carpets?
Outdoor carpets are not waterproof but are water resistant as they are made from synthetic fibers. An outdoor carpet will absorb a lot less water than an indoor carpet made from natural fibers.
Outdoor carpets can be left out in the rain. They will get wet but will dry out pretty soon. Hanging them will hasten the drying process.
Does Outdoor Carpet Mold?
As outdoor carpets are usually made from synthetic fibers, they do not provide any organic food source for mold or mildew. Most brands of synthetic outdoor carpets claim that they are mold & mildew resistant.
Technically speaking they are not wrong. However, organic matter from dry leaves, dead insects or food spills can get lodged in the weave of the carpet. When such spots get wet or moist, they can encourage growth of mold & mildew.
Can You Power Wash an Outdoor Carpet?
To keep your outdoor carpet clean, you need to wash it frequently. I recommend that you sweep or vacuum the carpet in the dining area after a party. Rinsing it with soap water and then washing it off with a garden hose will get the grime and sauce drips.
You can also use a power wash on an outdoor carpet laid out on the pool deck. Synthetic materials do not abrade easily, so they can withstand the high pressure from the power wash. 
But there is no need to go full blast with the power wash. Use medium pressure and a wand tip that fans out the water flow. This will be sufficient to clean the outdoor carpet.
Thank you very much for reading the post. I do hope you found it informative and helpful.