How To Power Wash Patio Pavers In The Best Way? (Important!)
thepoolanddeck.com is a participant in the Amazon Services LLC Associates Program, an affiliate advertising program designed to provide a means for sites to earn advertising fees by advertising and linking to Amazon.com . The website is also an affiliate of a few other brands. The affiliate links never increase your purchase price. We do appreciate your support. Thank you very much!
Can You Power Wash Patio Pavers?
Your patio is where you spend real quality time, be it alone, with family or friends. And of course you installed the best natural stone patio pavers to elevate the experience. Don't  you want your patio to look sparkling clean at all times? So can you power wash patio pavers?
You can power wash patio pavers provided you do it occasionally, gently and reseal the pavers after the power wash.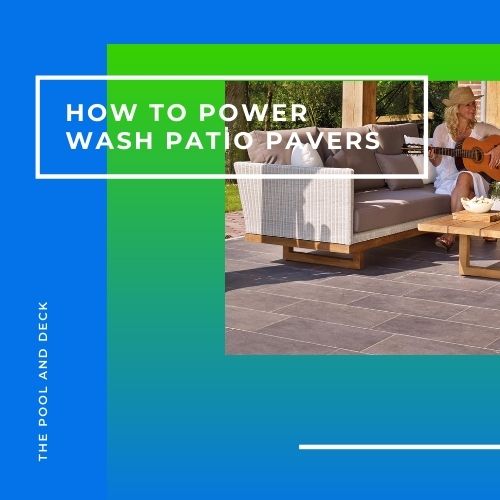 Natural stone pavers bring an earthy warmth and a touch of  luxury to any patio. Most popular natural stones patio pavers are:
Travertine
Limestone
Slate
Sandstone
Bluestone
Marble
Granite
Natural stones are durable but many of them have poor abrasion & scratch resistance. They are also porous and need to be sealed for protection.
Can Power Washing Damage Pavers?
If you power wash patio pavers, quite often you could permanently damage them. Natural stones are quite durable, but not necessarily hard and often have poor abrasion resistance.
Abrasion is the process of scuffing, scratching, wearing down, marring, or rubbing away.

WIKIPEDIA
Natural stones such as marble and even granite have been used to carve statues for centuries because they are soft and can be abraded by harder materials. Some of the other paving materials such as travertine, limestone and slate are even softer.
Frequent exposure to high water pressure from a power wash will abrade patio pavers.
Most natural stones are porous. This is good as it imparts a certain slip resistant quality to the natural stone paver or tile. But this also means that water will permeate into the pores of the natural stone paver and corrode it from within.
Patio pavers tend to stain easily because of porosity. Stains can penetrate deep into the porous natural stone and become quite difficult to remove.
The natural stone patio paver needs to be sealed with an impregnating sealer to block the pores. This helps the stone in becoming more water & stain resistant.
However, the high water pressure from a power wash will remove a fair amount of the sealer leaving the pavers unprotected from water & stain seepage. The durability of the patio will be compromised and it will deteriorate faster.
What psi Is Needed to Clean Pavers?
Water pressure is measured in pounds per square inch (psi). The pressure of water from a garden hose is typically around 50 psi. Such pressure will displace loose dust or debris but has no damaging effect on pavers.
The pressure washers sold for residential cleaning are generally rated in the range of 1000 – 2000 psi. In theory you can control the pressure of the water on the deck or patio by keeping the nozzle tip at an angle and at some distance. 
With the right pressure you can clean the patio without damaging the brick, concrete or natural stone pavers. In reality, this does not happen. A pressure washer is like a fun toy and don't we love blasting the dirt & stains off the patio.
Do not use a pressure washer directly on a pool deck or patio. Use a surface cleaner attachment. The attachment ensures that the water jet is at a softer angle and at a safe distance from the deck surface. The water jet also rotates so the same spot is not getting the blast continuously.
Karcher K1700 Electric Pressure Washer 1700 PSI with 11″ Surface Cleaner is budget friendly and good enough for occasional use on pavers.
What Is the Best Way to Clean Patio Pavers?
Sweep or Vacuum
Regular sweeping with a broom or vacuuming goes a long way in keeping the patio clean. Do it as often as possible and when the patio is dry. The dust has less chance to get wet and embed  in the nooks & crannies. 
Sweeping the deck removes any sharp objects that may be lying around. Sharp objects can scratch patio pavers and hurt bare feet.
Wash Every Month
Once in a while, maybe once a month, give your patio pavers a nice, but gentle wash. Rinse the patio with a garden hose. Prepare a solution of a pH neutral cleaner with water and pour it across the deck. Use a soft bristled broom or brush to spread it around. Let it soak in for 10 – 15 minutes.
I recommend Black Diamond's Stone Wash. It is formulated specifically to clean porous natural stone tiles & pavers. Stone Wash is pH neutral and biodegradable. Stone Wash lifts dirt effortlessly from natural stone without damaging the surface or diminishing the natural stone color.
Rinse off the patio once again with a garden hose. You can create a slight pressure by keeping your thumb on the outlet. 
Remove Stains
Patio pavers get all kinds of stains. When it comes to removing stains, keep in mind that:
Sooner is better than later
Use the correct remover for a stain type
My "go to" products for some common patio stans are:
Rust Stains
Iron OUT Liquid Rust Stain Remover is very effective on rust stains on decks & patios. It is a pre-mixed, ready to use liquid that can be applied with a tank sprayer, cloth or roller.
Make sure to take the proper safety precautions, including wearing latex gloves and safety goggles.
Food & Beverage Stains
To get rid of stubborn stains it is best to use Miracle Sealants Poultice Plus. It is an easy to use, fine, non-acidic absorbent powder. The bleach free formula works, when mixed with distilled water, to draw stains out from stone pavers & tiles.
Instructions on "how to use" are on the product label.
Mold & Mildew
WET & FORGET Moss, Mold, Mildew & Algae Stain Remover is very effective and easy to apply. No Scrubbing, Rinsing or Pressure Washing is needed. It is Bleach-free, Phosphate-free and Non-acidic.
Check out Wet N Forget Moss Mold Mildew and Algae Stain Remover
Should You Seal Pavers After Power Washing?
I do not recommend pressure washing a patio more than once a year. Power wash of patio pavers will abrade the sealer and even a bit of the stone & grout. The power wash should be followed by a reseal.
The patio does need some deep cleaning once in a while. I believe it should be once a year, preferably in fall. 
Power wash of the patio pavers will get rid of the grime that has accumulated over the past year. Resealing the patio will get it prepared for the rain, sleet and snow during winter.
It is critical that the patio is resealed after the power wash. The sealer coat on the patio is its primary defense against stains, scratches and weather. The effectiveness of the sealer coat does decline over time. No doubt the power wash of the patio pavers does additional damage.
It is quite easy to check if the sealer on the patio is still effective, after a pressure wash.
Just place a few drops of water on the patio surface. If the water drops bead up then the sealer is still intact. But, if the water gets absorbed then the sealer is no longer effective.
Impregnating Stone Sealers are effective as they penetrate into the pores of the natural stone pavers, solidify and block them. The natural texture & appearance remains unchanged. Water, stains or harmful chemicals can not enter the pores.
A good impregnating sealer such as Miracle Sealants 511QT6 511 Impregnator Sealer will last 1-3 years.
Thank you very much for reading the post. I do hope you found it informative and helpful.