Stamped Concrete Too Hot? (How To Keep Decks Cool!)
thepoolanddeck.com is a participant in the Amazon Services LLC Associates Program, an affiliate advertising program designed to provide a means for sites to earn advertising fees by advertising and linking to Amazon.com . The website is also an affiliate of a few other brands. The affiliate links never increase your purchase price. We do appreciate your support. Thank you very much!
Does Stamped Concrete Get Hot?
Don't you love the idea of a cool dip on a hot summer day? Of course! That is why you are investing in your own backyard pool. And you want to have a stamped concrete pool deck because it would look gorgeous. But does stamped concrete get too hot?
Stamped concrete pool decks get quite hot in summer. Typically, a stamped concrete deck, under direct sunlight, would be 120 deg F when the ambient temperature is 100 deg F. That is too hot to walk on with bare feet!
However, stamped concrete would get less hot than smooth, honed or polished concrete. A light colored stamped concrete deck would also get less hot than a dark colored stamped concrete deck. 
How hot a pool deck gets depends mainly on the decking material but texture and color also play a role. When sunlight falls on the pool deck a part is reflected. The remaining is absorbed and converted to heat.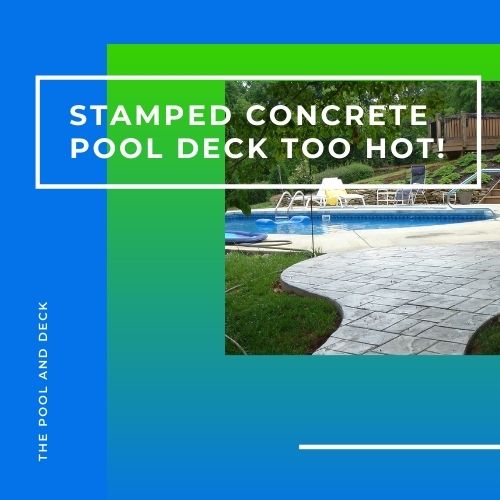 How Do I Keep My Concrete from Getting Hot?
Concrete slabs for pool decks get very hot in summer. Concrete has a relatively low specific heat capacity. For the same amount of light falling on a concrete deck surface, the deck gets hotter than the water in the pool.
The specific heat capacity of some common paving material is given in the table below: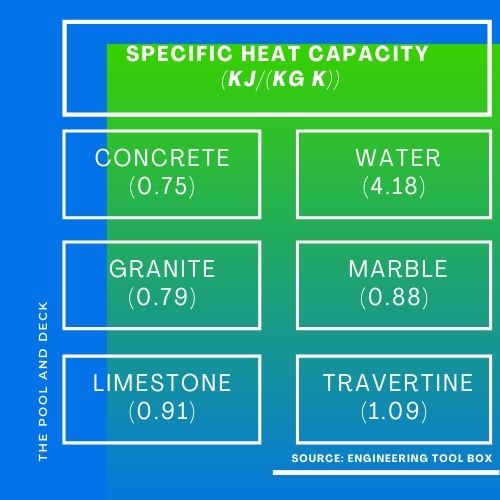 Data Source: Engineering Tool Box
Concrete & Water Specific Heat Capacity is mentioned so that you can put the paving materials in perspective.
Compared to many other materials, such as travertine, concrete absorbs and stores a lot more of the heat from the sun's rays. However, the specific heat capacity of concrete & granite are almost the same.
There are a few ways that can help a bit to keep a concrete deck from getting too hot under the summer sun.
Texture
Generally speaking a smooth concrete deck will get hotter than a rough or textured concrete deck. The sun is the hottest during the afternoon. Sun's rays hit the deck vertically.. 
The entire surface of a smooth concrete pool deck is exposed to the rays. As a result, smooth concrete absorbs a lot more heat energy. However, textured concrete decks absorb less of the light as some parts of the deck are at an angle to the light rays.
So in fact stamped concrete would be, in theory at least, not as hot as plain, honed or polished concrete. It would also not be as hot as polished granite or marble decks.
Color
You know from your school level science lessons that sunlight is actually a spectrum of wavelengths. An object appears to be white when it reflects all the light falling on it and black when it does not reflect any.
It stands to reason that a light colored stamped concrete deck would absorb very little of the sunlight falling on it and would get less hot. In contrast, a dark colored stamped concrete deck would absorb more of the sunlight falling on it and would get hotter.
In theory, a light colored stamped concrete pool deck should get less hot than a dark colored polished concrete pool deck. In reality, the difference may not be noticeable! 
What Pool Deck Material Stays Cool in the Heat?
If you are really concerned about having a pool deck that does not get too hot, you have to look at options beyond stamped concrete, or concrete for that matter.
Here are a few actions you could take.
Concrete Overlays
Concrete is a great pool deck material as it is economical and durable. Make it better and cooler by using an overlay. Some that work really well are:
Kool Deck: creates a colored, textured concrete surface when applied on freshly poured concrete. It claims to lower surface temperature by as much as 20 degrees F. Not a great option if you want a unique, elegant look though!
Acrylic: is actually a mixture of acrylic resin, cement and sand that can be applied on new or old concrete pool decks. The surface will not be as hot as bare concrete. It offers color & texture options but comes at a cost.
Wood or Composite Decking: can be installed over an existing concrete pool deck. Boardwalks are made of wood because wood does not get too hot. Composites are easier to maintain and more durable.
Pool Deck Paint: is alright for giving a fresh look to old dull concrete but it won't make it any cooler.
Alternative Decking Material
Your pool deck material options are not limited to concrete. The other options that do not get as hot as stamped concrete are:
Wood / Composites
I have talked about wood and composites as overlays on a concrete pool deck. But really that would make sense only if you plan on resurfacing your existing concrete pool deck. But if you plan on making a new deck then you could just build the entire deck out of wood or composite.
Composites are usually 10-20 degrees cooler than concrete. Wood is around 10 degrees cooler than composite.
Both are excellent decking material but they have their pros & cons.
Composites are insect and weather resistant. So they are more durable and need very little maintenance.
Wood is natural. It has exquisite beauty and exudes a homely warmth that synthetics can never match. Of course it takes a ton of effort (and money) to keep exposed wood looking good for years.
Natural Stone
Like wood, stone is a natural product and exudes an earthy charm. There are a lot of natural stone decking options, but not all are cooler than stamped concrete.
You should be considering:
Travertine is quite popular as pool decking. It is a form of limestone and comes in attractive earth tones. It is not cheap but it can be around 20 degrees cooler than stamped concrete.
Limestone can be used for surfacing pool decks. Light colored limestone is cooler than stamped concrete (though not as much as travertine). The drawback is that it is a relatively soft stone and needs to be protected from scratches.
Slate is not just cool, it looks cool too. In spite of being a dark stone it does not get as hot as stamped concrete. High quality slate tiles are scratch resistant, easy to clean and durable
Common Sense Advice for Stamped Concrete
You may still choose stamped concrete for your pool deck as it is good value for money. Who can blame you? The uniqueness and elegance of stamped concrete is magical!
Following tips will help you enjoy your stamped concrete pool deck.
Layout
There is no rule in the design book that says that you must use the same decking material on every square foot of your pool deck. Use creativity. Mix and match various materials. Good design as they say is a blend of form & function. 
Shade
Keeping most of your stamped concrete pool deck under shade will let you walk barefoot on it. Stamped concrete under shade will be around 25 degrees cooler than if it was under the summer afternoon sun
Footwear
You do not have to be barefoot on the pool deck. Actually wearing appropriate footwear adds to both safety and comfort. Wear water shoes, aqua socks or just water resistant non-slip sandals.
Speedo, the trusted name in performance swimwear, has an excellent and stylish range of water shoes. Check them out:
For the Ladies: Speedo Women's Water Shoe Surfwalker Pro 3.0
For the Gents: Speedo Men's Water Shoe Surfwalker Pro 3.0
Thank you very much for reading the post. I do hope you found it informative and helpful.