How to Use a Hot Tub in Summer? (7 Super Cool Ways!)
thepoolanddeck.com is a participant in the Amazon Services LLC Associates Program, an affiliate advertising program designed to provide a means for sites to earn advertising fees by advertising and linking to Amazon.com . The website is also an affiliate of a few other brands. The affiliate links never increase your purchase price. We do appreciate your support. Thank you very much!
How to Use a Hot Tub in Summer?
A hot tub is the place to be when it is cold outside. Naturally you make the most of your hot tub during winter. But what do you do once summer arrives? How to use a hot tub in summer?
A hot tub can be used in the summer as well. You can use the hot tub, as usual, for soothing sore muscles & hydrotherapy, possibly with the setting at 85° F. Alternatively you can turn the heater off and use the hot tub as a "cool" dipping pool.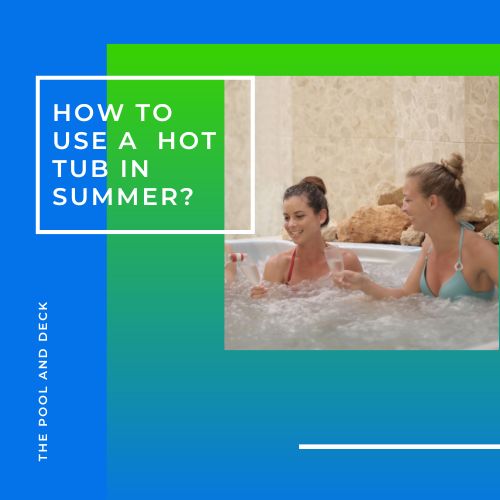 Here are 7 super cool ways in which you can use a hot tub in summer.
1. Enjoy a Cool Dip in the Morning
Convert your hot tub into a cool dipping pool. Turn off the heater at night after use. Leave the hot tub cover open.
Summer night time temperatures can be substantially lower than daytime temperatures. This will cool down the hot tub overnight. 
By leaving the hot tub cover open you will aid water evaporation. The night time breeze will also help.  A hot tub can lose a fair amount of heat by water evaporation during breezy summer nights. The hot tub will be a cool dipping pool by morning.
2. Soak in the Hot Tub Late in the Evening
Soaking in the hot tub, 90 minutes before bedtime, will relax your body and prepare it for sleep. Spend around 30 minutes in the hot tub. Set the hot tub temperature at around 100° F.
The hot water will warm up your body while you are in the tub. Once you get out, the body will start to cool down, which is the natural way for your body to prepare for sleep.
Immersion in the hot tub will also soothe & relax sore muscles & aching joints. The release of "happy hormones", such as dopamine & serotonin, will help you sleep better too.
3. Heal Your Body
For certain physical conditions, the hot tub is not only for relaxation, it is essential for pain management.
A soak in the hot tub is beneficial, both in summer and winter, if you are elderly and suffer from arthritis or severe back pain. The hot tub is not a permanent cure but it certainly makes the pain bearable.
Physicians, almost always, recommend hydrotherapy, in case you have been unfortunate enough to have had joint surgery of the knee or shoulder. Initially you will be required to perform the hydrotherapy under supervision, but later you can use your own hot tub for recuperation.
The hot tub provides buoyancy and warmth. Both are very useful if you have mobility issues. The warmth of the water loosens up the stiff muscles. Buoyancy helps you  exercise your limbs, without risk of any impact.
4. Refresh after Summer Activities
Most likely you and your family spend a lot of time on outdoor physical activities. Depending on your interests and location, it could be on the beach or a lake, climbing mountains or walking in forests.
Sailing, paddle boarding, canoeing, hiking, biking, trail running; whatever the activity you will certainly end up with very sore muscles by the end of the day.
The hot tub is ideal for soothing your muscles & rejuvenating your body, after summer activities. Refresh your body & mind for the next day and the next adventure!
5. Stay Cool Under Shades
An easy way to keep cool in your hot tub during summer is to arrange for some shade over the hot tub. Honestly, there are a whole range of possibilities. It really depends on your budget and how temporary or permanent of a structure you want.
Placing a large patio umbrella on the deck to shield the hot tub from the harsh rays of the sun is one of the simpler ways. It does not cost much and can be moved around, as the sun moves in the sky.
Should you want a more permanent structure then you could build a gazebo. A gazebo is not cheap but the advantage is that it protects the hot tub even when it rains or snows.
6. Spend Quality Time with Family
Summer is when you get to spend a lot of time with your family. Kids have a school break and you may take a few weeks off from work. You can spend quality time together in and around the hot tub.
There are a range of games that you can play with your kids. Depending on their age the kids can play with inflatable toys or water games.
An outdoor hot tub on the deck is a perfect spot to spend romantic moments with your better half on a summer evening. Soft music, patio lighting and chilled wine will create the atmosphere. Get into the hot tub, snuggle up and spend hours gazing at the starlit sky.
7. Organize a Hot Tub Party
Inviting your friends for a barbecue or wine tasting in summer is a great way to socialize. Organizing a hot tub party makes the entire experience a lot more fun. 
A hot tub setting allows everyone to be in casual clothes or swimsuits. Your friends are going to love the smell of barbecue & sound of funky music on the deck. When they get hot they know they can just get into the hot tub to take a break!
A hot tub party in summer must be the surest way of becoming the most popular person in your friend circle.
Thank you very much for reading the post. I do hope you found it informative and helpful.