How To Best Protect Wood Deck From Dog Scratches?
thepoolanddeck.com is a participant in the Amazon Services LLC Associates Program, an affiliate advertising program designed to provide a means for sites to earn advertising fees by advertising and linking to Amazon.com . The website is also an affiliate of a few other brands. The affiliate links never increase your purchase price. We do appreciate your support. Thank you very much!
How Do I Protect My Wood Deck from Dog Scratches?
Wood makes excellent decking. It is affordable and easy to install. A wood deck has warmth and natural beauty. But if you are a dog lover then the obvious question on your mind will be, "How do I protect my wood deck from dog scratches?"
To protect a wood deck from dog scratches you must choose a scratch resistant real hardwood or engineered hardwood decking. For an existing wood deck apply a tough scratch resistant polyurethane based sealer or coating on it.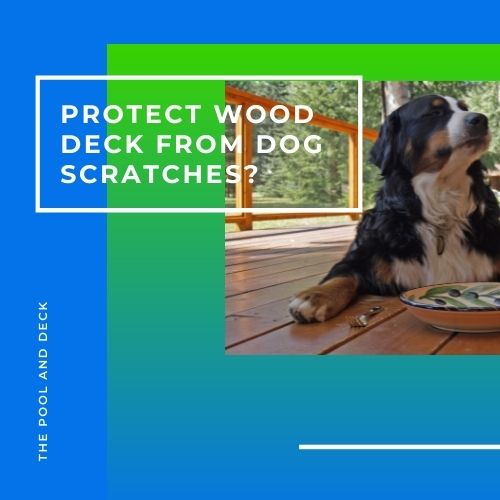 In this post I am going to focus on the wood deck and not so much on training or restricting your pet. For one each dog has its own personality. You as the pet owner know what works and what does not work for your dog. 
If you are like me, then you probably want a reasonably disciplined but immensely happy dog. No point in having a beautiful, unblemished wood deck and a miserable pet dog!
So if you are yet to install your wood deck then you should be finding out more about which wood to use for the decking. 
Which Hardwood Is the Most Scratch Resistant?
In the lumber industry, wood is classified as either "softwood" or "hardwood". The hardness of wood is measured using the Janka Hardness Scale. The scale is the pressure in pounds required to mar a wood surface. The higher a wood is on the Janka Hardness Scale, the more resistant it is to scratching.
Click here for the complete table for Janka Wood Hardness Rating.
In North America, hardwood comes from deciduous trees. Deciduous trees are the ones that lose their leaves every fall and get new ones in spring. The trees are slow growing and the wood is a lot denser and heavier.
Wood decks using Hickory, Hard Maple or White Oak are more scratch resistant than softer woods like Pine, Cherry or Black Walnut. 
Even harder than hickory is ipe. The Janka Hardness Rating for ipe is 3680, as compared to 1820 for hickory. That is more than double.
Ipe stands out for its strength, durability, and density. Ipe is rot resistant, mildew resistant & scratch resistant. Interestingly ipe has a A-class fire rating according to NFPA (National Fire Protection Agency). So you can safely grill on an ipe wood deck.
Ipe wood decking is known to last for over 50 years. (Atlantic City Boardwalk in New Jersey has used ipe).
Of course ipe comes at a cost as it is imported from South America and is quite rare. To learn more about ipe wood decking check out "10 Things Nobody Tells You About Ipe Wood".
You can protect a wood deck from dog scratches by using hardwood such as ipe or hickory.
Do Engineered Hardwood Floors Scratch?
An alternative to a wood deck is a composite wood deck or an "engineered hardwood" deck. As the name suggests, this is not real natural wood. Instead it is made from recycled wood, plastics and glue.
Composite wood decks are a great eco friendly option as they work on the principle of reusing waste. The quality of the resulting product is controlled as it is processed in a factory using a preset process.
Having said that, the quality and the price of composite or engineered hardwood decking will vary from brand to brand. 
The property of scratch resistance is not inherent to the material. It is imparted to the decking by the type of hardwood used in the top layer and the finishing applied.
So if you are looking for an engineered wood decking with high scratch resistance, then make sure that the Janka Hardness Rating of the wood in the top layer is 1800 or more. For additional scratch resistance, the top layer (aka veneer) is treated with multiple layers of aluminum oxide.
The right quality of engineered hardwood decking can protect your wood deck from dog scratches. It is cheaper than real high quality harwood too. But remember that refinishing will be a problem as only a thin top layer is real hardwood.
If budget is not a constraint then I would recommend settling for natural hardwood such as ipe or hickory. The durability and the class are well worth the extra cost.
How Do I Make Wood Scratch Resistant?
Now if you already have a wood deck, you are not going to rip it off and replace it with an ipe or hickory deck just to protect it from dog scratches. And you don't have to. 
You can increase the scratch resistance of any wood deck by applying the right scratch resistant sealer, stain or coating. The wood deck finishing options available are:
Natural products such as tung oil, boiled linseed oil, shellac, lacquer, etc. They will temporarily improve the moisture resistance and looks but are not going to protect your wood deck from dog scratches
 Two part epoxy coating is hard wearing and scratch resistant but has poor UV resistance. Epoxy is not suitable for outdoor applications as it will fade, discolor & lose gloss
Polyurethane Coatings are the best finish for exterior wood decks
Nano Technology + Water-based Polyurethane Sealer
Should you want to retain the natural look of the wood grains and yet increase scratch resistance, moisture resistance and UV resistance of your deck then you could use a high quality polyurethane based sealer.
Check out Seal Once NanoPoly Penetrating Wood Sealer with Polyurethane
SEAL-ONCE NANO+POLY Penetrating Wood Sealer uses a combination of nanotechnology and water-based polyurethane technology to create a durable surface-coating that protects against wear & tear in high traffic areas. It is an excellent choice for wood decks and walkways. 
SEAL-ONCE NANO+POLY can be tinted and used as wood stain or finish in 11 semi-transparent color tints that also provide added UV protection. 
Key Features: • Eco-safe • Non-toxic; will not harm pets, plants or people • Ultra-low VOC • Water based formula • Non-film forming, flexible, breathable barrier • Will not peel • Prevents warping, cupping, wood rot & decay • Prevents mold & mildew growth • Soap & water cleanup • Enhances natural grain of the wood • Clear formula allows for smoother finish, more even color & easier application of water & solvent based stains & finishes • Tinted formula provides additional UV protection
Liquid Rubber + Water-based Polyurethane
You may not be too keen to show off the natural wood color if your wood deck is old & weather beaten. In which case using a product that combines the best features of liquid rubber and water-based polyurethane may be your best option.
Check out Liquid Rubber Textured Polyurethane Deck Coating
Liquid Rubber Polyurethane Deck Coating is the perfect product to add a hard, durable, waterproof surface to any deck or patio. Liquid Rubber Polyurethane Deck Coating is a high-performance polyurethane elastomeric coating that cures into a waterproof membrane with excellent UV stability. Available in both smooth and textured finishes.
Thank you very much for reading the post. I do hope you found it informative and helpful.