How to Best Protect Pool Deck from Fire Pit?
thepoolanddeck.com is a participant in the Amazon Services LLC Associates Program, an affiliate advertising program designed to provide a means for sites to earn advertising fees by advertising and linking to Amazon.com . The website is also an affiliate of a few other brands. The affiliate links never increase your purchase price. We do appreciate your support. Thank you very much!
How Do I Protect My Pool Deck from a Fire Pit?
Early spring or late fall may be too chilly for a dip in your pool. But you can still enjoy the cool breeze on your pool deck. Sunset, a wine of glass and a cozy fire can be extremely relaxing. You may have some worries though. Will a fire pit damage my deck? How do I protect my pool deck from the fire pit?
You should not place the fire pit directly on the deck; certainly not on wood decks, but not even on concrete or natural stone paver pool decks. Place it instead on a special heat resisting fire pit mat or at least on a square bed of pavers. 
You need to take several other precautions too, not just to protect the pool deck but also the house and other nearby structures. The safety of people, especially that of children, should be ensured before anything else.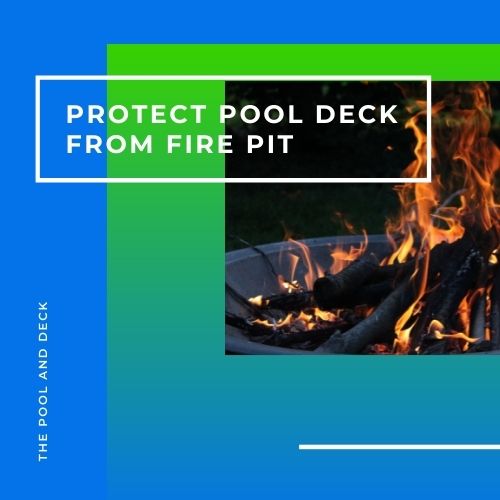 Will a Fire Pit Damage My Deck?
The design of a fire pit can range from a simple metal bowl on stands to an elaborate custom designed masonry well to match your pool deck. But they all have flame and heat in common.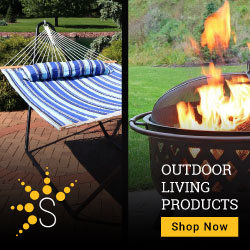 A fire pit can damage your pool deck because of:
High Radiant Heat
The fire itself can reach a temperature of around 2000°F. The bottom of the fire pit bowl could be hitting 600 – 800°F. The radiation can raise the temperature of the deck below the fire pit bowl to anywhere between 200 – 400°F.
That is really hot for wood or wood composite decks. They will surely get damaged. Even concrete loses strength if it is exposed to high temperatures. 
The threshold of significant degradation of concrete is around 65-93°C (150-200°F).

Source: inis.iaea.org
The heat that the pool deck is getting is primarily radiant heat from the the bottom of the fire pit bowl. So, to protect the pool deck from the fire pit heat, you need to place a deck protector under the fire pit that has exceptional radiant heat reflectivity.
I highly recommend using Newtex FirePad Deck Protector. The industrial grade high-temperature aluminized Z-Flex fabric technology reflects 95% of the radiant heat. In addition the Z-Block Fabric bottom layer is an impenetrable flame barrier. 
Flying Embers
A fire pit could use propane or natural gas but using wood as the fuel is more traditional. Burning wood just has a cozier glow and a very natural aroma. However, burning wood in an open fire pit outdoors is sure to result in flying embers.
Flying embers are, quite obviously, a fire risk. They will start their own fire if they land on anything flammable. At the very least they will scorch the deck and leave an ugly mark.
You can contain the flying embers by placing a spark screen on the fire pit.
Sunnydaze Fire Pit Spark Screen
Sunnydaze Reinforced Steel Mesh Fire Pit Spark Screen is simple, sturdy & durable. Some noteworthy features are
Available in 5 sizes
Heavy-duty construction
Classic design
Convenient safety features
One Year Warranty
Alternatively, spend a bit more and get a great looking, very efficient wood burning fire pit (rather a fire stove) that does not create flying embers. Check out
Solo Stove Bonfire Portable Fire Pit
MOST UNIQUE FIRE PIT: Solo Stove Bonfire pushes the limits of both combustion airflow efficiency and minimalist outdoor design with its all stainless steel construction.
SECONDARY COMBUSTION: The camping stove has double wall design maximizes airflow and burning process. Bottom vent holes allow oxygen to the feed the fire from below while simultaneously channeling warm oxygen up between the walls of the stove and back into the fire.
A MORE EFFICIENT BURN: A more complete burn means the little particles that would have been smoke are burned up by the top vents. It also means no more half burned logs to deal with.
BONFIRE STAND: Get the most from your Bonfire camp stove by being able to use it in more places than ever! With ample airflow, the stand accessory allows you to use your fire pit on more heat sensitive surfaces.
EASY TO USE & PORTABLE: This camping stove singular construction completely removes the need for parts and assembly! Bring it from your backyard patio to camping, or tailgating!
Is a Propane Fire Pit Worth It?
When you think of a fire pit on a patio or pool deck, you typically think of a wood burning fire pit. No doubt wood burning fire pits have a greater appeal because of the romance of crackling sound and pleasant aroma. But it is a lot more work too!
A propane or natural gas outdoor fire pit is an alternative that will make your life easier and your pool deck safer. You can even opt for a fire table using propane or natural gas fuel. Check out
Outdoor Propane Square Fire Pit Table
Clean burning propane flame provides soothing warmth, gentle lighting and a centerpiece for warming up those casual evening get-togethers.
Built to last from sturdy, fire retardant magnesium oxide with a stainless steel burner bowl. 
Lights with the push of a button and the flame intensity is controlled by the adjustment knob.
Natural red lava pieces fill the burner bowl and help radiate the warmth more evenly as they are heated by the flames.
No soot or ash to clean up and no smoke as with wood burning or charcoal fires.
Clean burning propane stays lit with no stoking and is better for the environment.
Large enough table surface to set your brandy snifters and keep them warm as the evening lingers on. 
Comes with a one year warranty for replacement of parts or accessories.
Alternatively you can check out some amazing gas fire pits from Sunnydaze. Just click on images below:
Keep Your Fire Pit Safe
To be honest, fire pit safety is mostly about having a healthy respect for open flames, using basic common sense and having a risk averse mindset. None of the advice given below is something new or earth shattering. I am sure you already knew it. 
The few guidelines here are mostly as a reminder.
Keep the fire pit and the fires on a pool deck small. They are safer and make for a more cozy setting. 
Keep the fire pit at least 10 feet away from the house, sheds, property lines, overhanging tree branches or flammable material. Check the local code.
Keep a garden hose, a bucket of dry sand and a fire extinguisher handy.
Clean up the fire pit once it has cooled and dispose of the embers carefully.
Thank you very much for reading the post. I do hope you found it informative and helpful.